It's a new year, making it the perfect time for new Paddlesports! What better time to learn a new activity, or if you already know all about Paddlesports, it's a perfect time to invest in one! Check out our inventory, or schedule a test run and see what all the rave is about!
There are so many different options when it comes to Paddlesports, it all depends on what you're looking to do.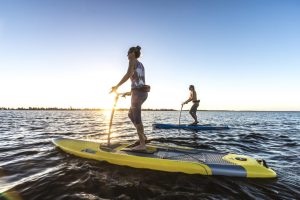 Exercise
If you're on the new year, new you bandwagon, and trying to get some exercise in, then either paddle boarding or kayaking are great ways to get some exercise. Both will work all areas of your body, including getting some cardio benefits as well. You're working on arm and leg strength, as well as your back muscles and endurance!
Relaxation
Both paddleboards and kayaking can provide some forms of relaxation. What better way to explore the beautiful Sarasota Bay than to take a nice paddle and enjoy the views? Sit back and enjoy your time on the water, it's the perfect way to relax and enjoy the day.
Fish
Fishing is great from a fishing kayak. It's easy, portable, and a new fun way to enjoy fishing. When fishing from a kayak, you're able to get to places you couldn't normally from a boat, and it's easier to spot fish because you're lower to the water. You're also able to sneak up on them because your kayak is so quiet.
Make a reservation to try out one of our kayaks for free! We have demo days every Saturday morning, be sure to book early as they fill up fast! Come out for a great morning and talk to our expert staff. We look forward to helping you find your next kayak or paddle board. See you there.