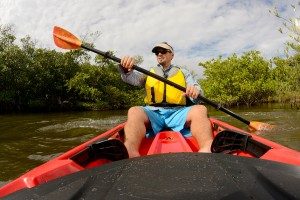 Economy Tackle/Dolphin Paddlesports understands that purchasing a kayak is not an easy decision to make. It's a major purchasing decision that involves plenty of preplanning and forethought. With this in mind, we continually strive to make easier to get you in a kayak today. From our constant free demo days to discounted kayak rentals, to applying your rental fee to your purchase we want to bring the joy of enjoying nature in a kayak to everyone.
Free Demo Days
Economy Tackle/Dolphin Paddlesports is renowned for its constant kayak demo days. Hosted at Ackerman Park in Sarasota we feature over 35 kayaks and the Hobie Eclipse for you to try yourself. We want you to get a feel for that kayak you've had your eye on up close and personal. Sarasota free demo days are usually Saturdays from 9:30 am to 12 pm. Check out our handy calendar and join us on our next kayak demo day!
Rent a Kayak in Sarasota
A demo might not satisfy your curiosity about a kayak purchase. You might want a little more time to consider your potential purchase by taking it out for a try yourself. This is where Economy Tackle/Dolphin Paddlesports' kayak rentals program truly shines. We aspire to make it as easy as possible for you find the kayak of your dreams. Choose between popular brands such as Hobie, Wilderness Systems, Perception, and a lot more to satisfy your kayak needs. Our kayak rental prices are the lowest around and getting lower still. Visit our kayak rentals page for the most up-to-date pricing today.
Take Your Kayak Home
You've tried out your kayak and you're in love. It's time to take it to its new home. Economy Tackle/Dolphin Paddlesports is here to make this final step as seamless as possible. Whether it's a kayak or a stand-up paddleboard we will apply your first one-day rental fee towards the purchase of your new boat. We believe in eliminating as many obstacles as possible between you and your new kayak!
Ready to check out that kayak you've had your eye on? Visit the Economy Tackle/Dolphin Paddlesports calendar for our next demo day, the kayak rental page for more information or call us at (914) 922-9671 to schedule a demo or click here to get more information.