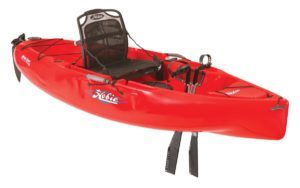 Of our favorite takes on the traditional kayak design is the sit-on-top kayak variation. These kayaks are designed for easier exit and entry and feature several additional fun traits that instantly made them popular. Economy Tackle/Dolphin Paddlesports' favorite take on the sit-on-top kayak variation is the Hobie Mirage Sport. There are several reasons why this sporty fun kayak has stolen our hearts. Let's start with the essentials.
Hobie Mirage Sport Specifications
Crew: 1
Length: 9'7" / 2.92 m
Width: 29.5" / .75 m
Capacity: 225 lbs. / 102 kg
Fitted Hull Weight: 61 lbs. / 28 kg
Fully Rigged Weight:  78 lbs. / 35 kg
Hobie Mirage Sport Features
Our favorite feature of the Hobie Mirage Sport has to be the MirageDrive. This ability to move through the water using your feet makes the already nimble and fast craft even more versatile. It glides through the water with a stability that is unmatched in the ranks of sit-on-top kayaks. This is important as smaller adults and kids appreciate a little more balance on the water giving them more time to truly appreciate the experience that is kayaking.  The durable polyethylene acts to lighten the load even more with the entirety of the kayak coming in at 61 pounds!
Demo the Hobie Mirage Sport Today
We can talk about the Hobie Mirage Sport until the cows come home but nothing will show you why we have such a passion for it more than trying it out for yourself!  Check out the Economy Tackle/Dolphin Paddlesports calendar for our next demo day or call us at (914) 922-9671 to schedule a demo or click to get more information.