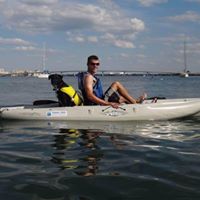 Kayak fishing is gaining more and more popularity as fishing aficionados embrace the benefits of fishing from a kayak. We at Economy Tackle/Dolphin Paddlesports have made our love of casting out from a kayak no secret. With that in mind, we put together a list of 3 key kayak fishing tips for our readers to prepare them for the adventure that is kayak fishing.
Ask a Kayak Fishing Expert
There is no better source of information than someone who's been there before. Head to your local paddle shop and just ask! Kayak fishing is by no means a new phenomenon. Draw on the wealth of information that has come before you by reaching out to your local Sarasota kayak fishing experts for help. They can take a look at your gear and let you know what you need to have a successful fishing trip. Most importantly they can point you to the most lucrative spots for fishing in the area. This is invaluable information that even in this day and age of technological information saturation remains the best way to learn about the most fruitful kayak fishing areas.
Learn how to Cast One-Handed
This next tip is for those kayakers not fortunate enough to be fishing from a pedal-powered kayak such as the Pro Angler from Hobie. The size of a kayak combined with the room between the sitting surface and the water makes a two-handed wind up cast a tough undertaking. Instead, prepare for and be ready to cast one handed on your kayak fishing adventure. Choose lighter flipping sticks and gear to keep the majority of the balancing effort as close to your body as possible. This will allow you to go out and try different casts for a longer period of time without getting too tired too quickly.
The Shore is your Friend
Paddling by itself is not an easy undertaking; add fishing to the equation and you've got yourself a workout! Experienced kayak fishers know about this secret that helps keep their focus where it needs to be: the fish. Stay close to the shore to minimize the wind's effect on your kayak and help you paddle up-current easier. Keeping your kayak shallow makes it simpler to take advantage of the reduced drift as waves and wind are mitigated by shoreline vegetation.
Do you need more tips on how you too can have a successful kayak fishing experience? Visit the Economy Tackle/Dolphin Paddlesports location at 6018 South Tamiami Trail Sarasota, Florida for more information or call us at (914) 922-9671 to schedule a demo or click here to get more information.