Get ready for an exciting fall as the new 2019 Hobie pedal kayaks are out! It's a great time to be a paddler and a Hobie fan as these new kayaks will have you racing to the water. Your friends at Economy Tackle/Dolphin Paddlesports have an exclusive first look for you at the new 2019 Hobie pedal kayak line. We won't leave you with just a preview however, we have live demos for you to try and experience this kayak revolution in person.
2019 Redesigned Hobie Mirage Outback
The first major redesign of the best-selling pedal kayak on the market is a wonder to behold. The 2019 Mirage Outback comes jam packed with various new features in keeping with Hobie's mission to bring you quality kayaks. The redesigned Outback comes with an extra-wide standing deck to give you a steady casting platform while standing.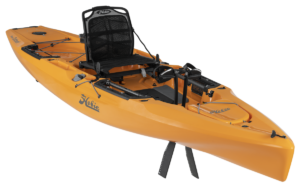 When you seat down you will notice the new Vantage CTW seat with extra width for an unbeatable feeling of luxury. Spread out your feet and reach out to your nearby gear as the new Outback features new wide storage compartments.
Underneath you will experience a smooth navigational adventure powered by the MirageDrive 180 with ARC Cranks and Turbo Fins. The goal here is speed, control and silence as you cruise through the waters of your favorite fishing spot.
The New Mirage Compass Duo
The follow-up to the Mirage Compass introduced last year, the Hobie Mirage Compass Duo encompasses the same balance of features and value in a two person kayak. The Compass Duo has a sleek hull design that perfectly complements the roomy interior. For power the Compass Duo relies on dual MirageDrive with Glide Technology maximizing speed while reducing drag.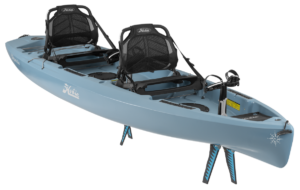 The seats are ergonomically designed for hours of fun out on the water with abundant storage compartments with room enough to house gear for two. These wide seats are perfect for water outings with adults, kids and furry friends!
Exclusive Can't Miss In-person Demo
Talk is cheap! Economy Tackle/Dolphin Paddlesports wants you to get up close and personal with the new 2019 Hobie Pedal Kayaks. Join us this Saturday, September 15th from 9:30am – 12:00pm at Ackerman Park in Sarasota. Our knowledgeable team of staff is ready to assist and answer any and all of your questions.
Can't quite make it this Saturday? Check out the Economy Tackle/Dolphin Paddlesports calendar for our next demo day or call us at (914) 922-9671 to schedule a demo or click here to get more information.