The verdict is in and stand up paddle boarding is not just a summer activity! In the last few years stand up paddle boarding has exploded in popularity as experienced and novice outdoor explores alike flock to this great water activity.  The immediate draw of stand up paddle boarding has been the ease of taking up this sport.
While surfing requires a higher than average dexterity and flexibility, stand up paddle boarding can be picked and enjoyed by kids, older adults and everyone in between. This waterborne activity even has ancient beginnings as an easy way to travel between islands. Unlike its close cousin, surfing, stand up paddle boarding does not require waves to practice.
Stand up paddle boarding is easy to pick up. At the same time it provides a great full body work out that enhances control one has over one's core. Your abs will get a quick boost in muscles while your legs get toned as you stay afloat taking in the beautiful water views. Stand up paddle boarding provides a great opportunity to go out and enjoy fresh air especially as we enter the deeper winter months.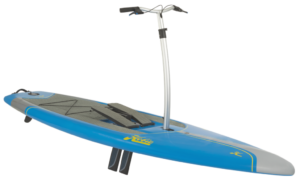 The more popular stand up paddle boarding gets, the more manufacturers compete to create the perfect board to take out on the water. None is more advanced in comfort, safety and easy than the Hobie Mirage Eclipse. Created by the Hobie Cat Company established in 1950, no cost or research was spared in crafting the perfect stand up paddle board.
The Hobie Mirage Eclipse revolutionized paddle boarding by adding the incredible Hobie MirageDrive pedal drive. This leg powered paddle boarding method harnesses the strongest muscles in your body, your legs. This frees up your arms for waving, pointing, taking pictures, fishing, and overall allowing you to be more involved in the water than just using your hands and arms to propel your board.
This holiday season Economy Tackle has partnered with Hobie to make the Mirage Eclipse even more affordable for outdoor enthusiasts. Until December 31st all Hobie Mirage Eclipse stand up paddle boards are discounted by $250 for one and $375 for two! This is an unprecedented offer for an amazing top tier, top of the line stand up paddle board.
Hurry these boards are going fast. Call your local experts at Economy Tackle/Dolphin Paddlesports at (941) 922-9671 or send them a quick message to take advantage of this limited time offer today!