There are so many benefits of a kayak with pedals, the main one being that your hands are free to do other things. Using pedals instead of paddles allows us to use our legs for propulsion, which are much stronger than our arms anyway, allowing us to travel further, faster.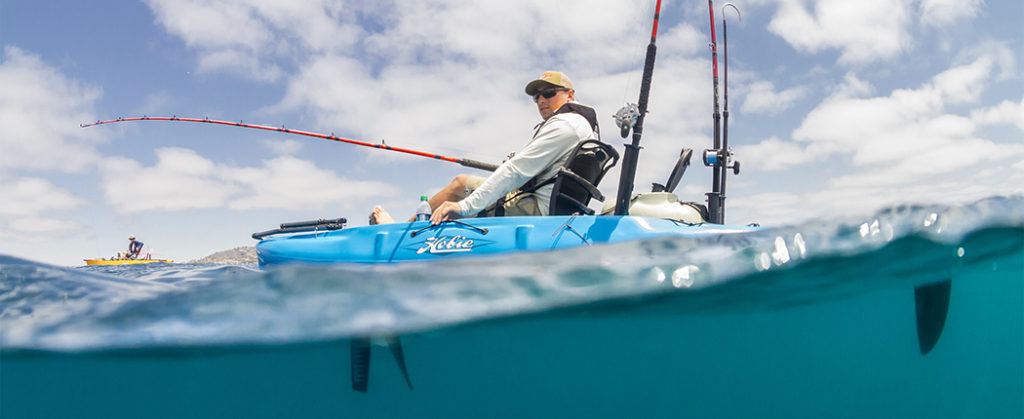 As mentioned above, the main benefit of using a kayak with pedals is that we can explore hands free, meaning we can do other things with our hands, such as fish. This is why a pedal kayak is a very popular fishing kayak. Hobie was one of the first to introduce the Hobie Mirage Drive Kayak in 1997, a pedal powered kayak which quickly became a popular choice of fisherman. Native Watercraft produced their own version of a pedal powered kayak in 2008.
Not only is pedaling great for fishing, but our bodies get less tired pedaling than they do paddling. Our leg muscles are larger than muscles in our arms, so they have more strength and can last longer, and go further distances.
Have you ever tried to use a traditional paddle kayak on a windy day? It isn't the easiest thing to do. Another benefit of a kayak with pedals is that they tend to outperform their paddle predecessor. Because of their fins, or props that go deeper into the water, they tend to get blown around in the water less. It also helps that you're constantly moving along rather than having a paddle up in the air moving around.
If you're simply out on the Tampa Bay area waters to view nature, then get your camera ready because all you have to do is pedal around. This way you have your hands free at a moment's notice and can snap away!
If you'd like to learn more about how a fishing kayak can improve your Sarasota area fishing game, please call our store at (941) 922-9671 for information, and to make a reservation for a kayak demo.