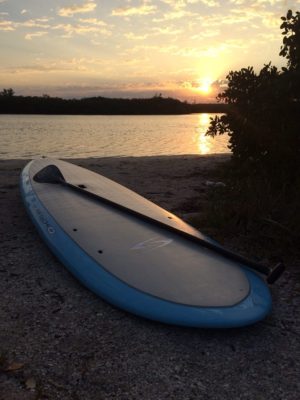 Your kayaking and stand up paddleboard experts in Sarasota at Economy Tackle/Dolphin Paddlesports have a few tips for you to stay safe while you enjoy one our favorite waterborne outdoor activity. While stand-up paddle boarding can be a fun activity for the whole family it is important to always have a safety first approach when it comes to exploring the waters on your board. Stand-up paddleboard safety begins before, during, and after your trip to the water.
Stand-up Paddleboard Safety Equipment
Preparation before stand-up paddle boarding begins with acquiring and organizing the right pieces of equipment. Before buying a paddleboard consider renting or borrowing one so you can get familiar with riding and figuring out which style you prefer. This will also make sure you don't run into any safety issues when riding a board style you might not be familiar with. For safety equipment we recommend a Personal Flotation Device such as a life jacket. Although adults can forgo these we highly recommend that all stand-up paddle boarders use it. If you are exploring waters in the US you should also have a whistle with you to warn other boaters in case they get too close as per Coast Guard regulations.
Stand-up Paddleboard Riding Safety
Now that you are prepared it is imperative that you ride safely as well. If you are still a beginner rider it is highly recommended that you acquire some assistance to initially climb on the board. Once on the board keep your eyes and chest up with your feet parallel to the edges to maintain balance and avoid messy spills into the water. Bring an experience stand-up paddleboard rider to help guide you through the ride especially on proper stroke technique for your paddle. Lastly, an experienced teacher will come in handy should you fall off the board at some point during your stand-up paddle boarding adventure.
  After Care Stand-up Paddleboard Tips
You've had a great time out on the water on your board and it's now time to head home. Before safely packing your board away there is your body to consider. You have just put your body through one of the most intense core workouts out there! Be sure to stretch your whole body paying particular attention to your stomach, back and legs. Your arms should get a good stretch as well as they function as the main propulsion during your stand-up paddle boarding trip. Stretching after paddling is twice as important if you are a beginner, you will feel sore come the next day and it's important to get ahead of your muscles needs to prevent increased risk of injuries.
Are you ready for your very own stand-up paddleboard adventure? Call the Sarasota stand-up paddleboard safety experts, Economy Tackle/Dolphin Paddlesports, at (941) 922-9671 to get started today or send them a quick message by clicking here!