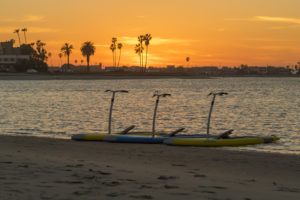 The wonderful world of summer kayaking is opening its welcoming arms here in Florida as locals and tourists alike run outside to enjoy the weather. The Sunshine State got its name for the plentiful rays it showers on those lucky enough to visit or live in it. The sun is not all good news however as it has a sinister side that juxtaposes the cheerful one. It is important to remember to keep our summer kayaking activities safe by properly preparing for all the awesome rays we plan on catching.
Prolonged Sunlight Risks  
By now the risks associated with prolonged sunlight exposure are somewhat widely known but they bear repeating for those planning on summer kayaking. It's not just beach goers who have to be wary about these increased risks of adverse sun exposure. Sunburns are the first negative effects most outdoor lovers suffer when venturing out unprotected. The skin reddening usually leads to pain and blistering, and in some extreme cases second-degree burns. In long term detrimental effects from undue UV exposure suffers can often experience among others premature aging of the skin, age spots, easier skin bruising and in severe cases skin cancer which is the most common of all cancers.
Summer Kayaking Safely
To stay safe from the sun's unwanted effects this summer kayaking season your friends at Economy Tackle/Dolphin Paddlesports have put together this list of tips to help you have a safe time enjoying yourself out there on the water. First and foremost a little planning ahead goes a long way when it comes to safely facing the elements. Too often we go out only to realize we left the sunscreen or another otherwise important item at home. Put your gear and other sun protection accessories in your kayaking kit. Have a dedicated kit where you know you won't be tempted to take it out for other sunlight related activities. This will help you eliminate the "I forgot it" element of sun protection preparedness.
Cover Up & Stay Vigilant
Proper summer kayaking attire is necessary as a first line of defense against the sun's harmful rays. Cover up your sensitive skin and eyes as much as you can while remaining comfortable enough to enjoy your outing.  A hat is highly recommended to protect your scalp. Sunglasses can help keep your eyes on an even keel as the reflection of the sun on water is sometimes intense enough to cause significant eye strain to some kayakers.  Gloves and closed toe shoes can also help protect your extremities from unnecessary sunlight. The last tip we want to leave you with is to graciously use sunscreen. The key here is to reapply as often as needed depending on your sunscreen's SPF rating and water activities.
Are you ready to head out on your summer kayaking venture?  Call Economy Tackle/Dolphin Paddlesports at (914) 922-9671 to get more information on stating safe out there or getting the right equipment or click here to get more information.